India Cosmetics Hand Cream
India Cosmetics Hand Cream made with natural ingredients, specifically designed to protect and care for the defenses of the skin of the hands , considerably reducing pain and the level of dryness. 
Therefore, it is one of the best that you can find in the current market. In addition, it is quite ideal for any type of person, since it has been made with totally natural ingredients, which are ideal, even for delicate skin. 
Ingredients
Hemp seed oil

Bee wax

Sage extract

Oak bark 

Glycerin

Contains a high 

percentage of CBD

 . 
Features of India Cosmetics Hand Cream
Hand cream based on the best natural ingredients. 
Hydrates, regenerates and deeply soothes the skin.
This cream does not leave a greasy or sticky feeling.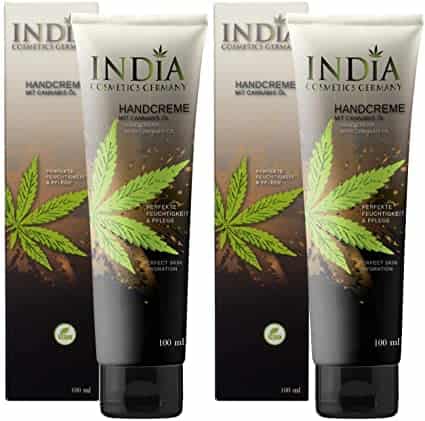 Benefits of India Cosmetics Hand Cream
Provides freshness and relief
This cream provides a sensation after its application of freshness and relief. In addition to intense and long-lasting hydration, thanks to its bacterial formula that optimally minimizes skin irritation. 
Nourishes and soothes sore skin
Thanks to its high quality hemp seed lift , it is perfect for nourishing and soothing cracked and sore skin, which accelerates regeneration and enhances its resistance to the counterproductive effects of the sun, cold and wind. 
Natural barrier
Beeswax acts as a natural barrier, which helps protect the skin from any kind of inclement weather associated with the sun, among others. Which offers a calming effect on it, which lasts for a long time. 
Are you interested in buying this product? In our online store you can find it at a very affordable price. 
It has an antioxidant effects
The India Cosmetics Hand Cream is made with the highest quality sage extract , which provides an antioxidant effect to its ability to fully protect and nourish the skin, deep cleaning and deflating it. 
Antibacterial and astringent effect
The oak bark that has been incorporated in this product, adds and promotes the antibacterial and astringent effect, which helps to eliminate the infectious and dirt sources that can generate any type of pain.