Cannabidiol creams
The best quality CBD creams in Spain. You can already feel the effects of cannabis on your skin thanks to our products made with natural hemp from the European Union. At FarmaCBD we have wanted to make a selection of the best products with cannabidiol for skin care and nutrition .
That is why we have for you the best brands with an unbeatable price, so that you can enjoy using these topics easily and economically.
Sale of CBD creams
At FarmaCBD we sell the best cannabis creams on the market. We have achieved this thanks to the extensive experience we have as users and as sellers of CBD-based creams.
Selling these types of creams has led us to know cannabidiol to perfection and to be able to help many people discover the enormous benefits that cannabis has for the well-being of humans and pets.
Our hemp creams
Buying cannabidiol creams is now possible thanks to our online store specialized in this type of product. We bring you a wide category of ointments and topicals developed by laboratories specialized in cannabis dermatology.
You can buy these items and receive it in no time thanks to our fast shipping service . So enjoy your experience buying this product of nature.
What are CBD creams?
A CBD cream is an ointment based on cannabidiol oil , extracted from hemp or marijuana flowers and free of THC (not psychoactive). The cannabinoids present in the marijuana plant are the agents responsible for its having many properties that provide well-being. In the case of hemp cream, it is excellent for its anti-inflammatory and analgesic properties.
CBD cream is excellent for relaxing muscle and tissue tension, reducing inflammation, and relieving pain . For all this, CBD ointment has dermatological uses associated with reducing inflammation and reducing pain as much as cosmetics.
CBD has been the subject of much clinical research and is credited with an extraordinary ability to act on the endocannabinoid system of humans, the substance has an effect on immune activity and controls certain external stimulus effects.
Among the properties of CBD is its anti-inflammatory power that provides relief from localized pain and helps to improve muscle tension, thanks to this the use of cannabidiol-based creams is increasingly common.
How do cannabidiol creams work?
The cannabidiol cream that you choose will depend on whether you want to maintain your skin at the facial and body level. If you want to give them a cosmetic use (cbd antiage creams), if you use it for any symptoms on your skin (such as acne, psoriasis or  eczema ), to relieve cramps or pain.
The oil that you find in the cream allows the effects to be optimized and it can penetrate the skin through our fatty vesicles such as liposomes.
In the case of cannabidiol cream , when it is placed on the skin, the latter encapsulates the CBD molecules in the liposomes, connecting with the CBD receptors in our body, in our endocannabinoid system. The cream CBD also is a powerful antioxidant , because the cannabidiol is one of the free radical scavengers most powerful in the world.
The effect of the CBD cream is local and does not reach the bloodstream, therefore, neither the central nervous system. This means that it does not interfere with medications.
In another particular, that it is a product for localized topical use , it means that it is limited to acting in a specific area of ​​our body.
What are CBD creams used for?
CBD for Acne
Excess sebum causes pores to become clogged and blackheads appear. But also, depending on the severity of the injury and infection that is generated in the skin, pustules and even cysts may appear.
The cream cannabis reduces sebum and produces a blocking of the pores, preventing bacteria, dirt and dead cells from entering the skin. Thus the latter begins to maintain its cleanliness, relieves the itching caused by acne, reduces bacteria, reduces inflammation and clears the skin.
CBD for Psoriasis
Psoriasis is an inflammatory disease that manifests with itching and scaly lesions on the skin, irritation and a lot of redness are frequently observed.
Although the causes that generate it are not known, hereditary factors can influence its appearance, however it is not contagious. The creams of cannabidiol for psoriasis , to the topical be, reduce inflammation and cell replacement, softening the skin and uncovering inflamed pores. But they also act on the immune system.
For Osteoarthritis
Thanks to the anti-inflammatory and analgesic properties of the cream, it helps to calm chronic pain and improves rheumatic conditions, causing pain relief.
Throughout many studies on cannabidiol and osteoarthritis , it has been concluded that it can be very useful in helping people with this disease. This compound helps to reduce the sensation of pain, in addition to helping to reduce inflammation.
Cannabidiol Creams for Chronic Pain
The cream of cannabidiol for chronic pain is a product in high demand today for its analgesic properties and almost no side effects. It influences through the CBD receptors in the endocannabinoid system, called CBD1 and anandamide, which once captured in the body produce instant relief.
In these cases we recommend applying the CBD cream every 4 hours , and we suggest doing it with professional supervision.
For Arthritis
In these cases , cannabidiol can achieve an immunosuppressive effect to slow tissue damage and relieve inflammation. The analgesic effect is relevant to improve the patient's condition, since arthritis is usually painful and highly inflammatory.
Thanks to the CBD cream , there are no more chances of gastric lesions or alterations in liver function, such as those generated by corticosteroids.
For Anxiety
By placing the cream topically by the receptors of the endocannabinoid system as well as by the benefits of aromatherapy , it manages to calm anxiety and contributes to the generation of serotonin.
Using cannabis creams for aromatherapy is a great idea, thanks to cannabidiol you will be able to relax optimally.
How many times a day should I use CBD creams?
Our recommendation is that, depending on the condition and the amount of CBD that the cream contains. You should apply it between one or two times a day. Use it at times when you are not doing physical activity , such as before going to sleep.
If the pain or inflammation is very intense, you can make another application every 4 hours or so, or buy a cream with more milligrams of CBD. When starting to use the cream, apply it little by little each day until the dosage increases.
How much cream do I use?
It is very important that we know the amount of cannabinoid that each cream contains . You can know this, through the amount of milligrams of CBD that the cream contains. This way we will know if there are enough cannabinoids to relieve pain or discomfort.
Logically, a cream with a higher amount of CBD will have a greater effect . We recommend that you start with a low dose and gradually increase the amount of cream you administer gradually.
How are Cannabidiol topicals used?
In general, before you use any cream, it is advisable to apply a small amount on your skin , for example on the wrist, to rule out the possibility of allergies.
Using CBD creams is very simple. After locating where the pain or discomfort is, the topical should simply be applied around that area in order to treat it. The application of this product is very similar to the application of any lotion or topical.
Experts advise that for this cream to penetrate well into the place of the skin where you apply it, you can help with a gentle massage on the affected area.
Hits a massage with the fingertips , checking the entire area of your skin remain covered evenly.
By massaging with your fingers, you will be applying adequate pressure on your skin that is neither too soft nor too strong. So he won't mistreat you
In general, they act with a heat / cold effect and in approximately 10 to 20 minutes, depending on the condition, especially in cases where there is muscle pain or muscle or joint inflammation.
Types of hemp creams
The creams can be moisturizing, cosmetic, maintenance , specific for athletes and for skin care in general. They are not only moisturizing creams for the skin , they are also lotions with certain characteristics that must be used in a specific way.
In other words, if you have psoriasis, the use of the cream will be different than if you suffer from muscle or joint pain. That is why there are also different presentations and it will be necessary to test which one works better.
In general, before you use any cream, it is good that you test a small amount on your skin, the hollow of the elbow, for example, or the inside of the wrist, to rule out that you may be allergic to any of its components.
It will also be recommended that you try between lotions and balms, which differ in consistency more or less liquid. The lotions based on CBD are quite denser than conventional creams that are available in the market.
There are studies that indicate that the benefits of CBD can be achieved transdermally, that is, topically, especially its analgesic, anti-inflammatory or antipsychotic effects. Something wonderful! Truth?
How to buy them?
You can now buy CBD creams , cosmetic and dermatological cannabidiol products , at the best price and quality in our FarmaCBD store . 
Some of the products that you will see are creams, balms, cannabis cosmetics, CBD lotions, sweets and many other things that may interest you .
Thanks to online shopping, you will be able to choose the ideal and specific product for you. Many people are looking for online stores specializing in hemp creams due to the increase in demand for the product.
That is why numerous establishments have emerged that sell this type of item.
If you want to buy cannabis creams in Spain, you can find a great variety of this product in stores in Madrid , Barcelona or other cities in the country. 
With our online store you no longer have to leave the comfort of your home to obtain it, you also get creams, Balms , Oil , Aftershave , Aftersun and other products that may interest you at the best prices on the market.
You don't have to go out and find the product you bought! We take care that it reaches the door of your house, place your order and you will see it!
It should be noted that the brands we offer you work with 100% natural products . This means that they do not have chemicals that can cause you any kind of harm.

What benefits do CBD creams offer you?
CBD creams

stand out for their excellent analgesic, bactericidal and anti-inflammatory effects.

 Its use increases every day. It

is

currently

used by a large number of athletes, people with acute or chronic pain and with other pathologies mentioned above.

It is of excellent help to relieve, massage decontractures and relax the muscles. In this case it

maintains the function and its flexibility

, so you forget about the inconvenience.

If you use creams for aesthetic use, you

will keep your skin looking healthy, shiny and above all toned.

Do not forget that skin problems such as inflammation, dermatitis, among others, improve considerably.

What do users think about CBD creams?
The use of this type of cream has become very popular in Spain, in any of its presentations, therefore, men and women have chosen to buy it, since they enjoy the benefits that it brings them.
In addition to the cream for relieving ailments and for athletes, men have said that Afterhave is a great help product for after shaving and women use it more every day for the face and to hydrate the skin of the body.
On the other hand, they have thought that the Aftersun cream is perfect to use after going to the beach or the pool, since it perfectly soothes the redness of the skin and prevents it from looking withered.
Without a doubt, CBD creams have been widely accepted among users seeking to alleviate their ailments quickly. Their great effectiveness has kept them in the market and every day they are more sold.
Haven't you tried them? We are sure that in FarmaCBD you will find the right one for you and your family.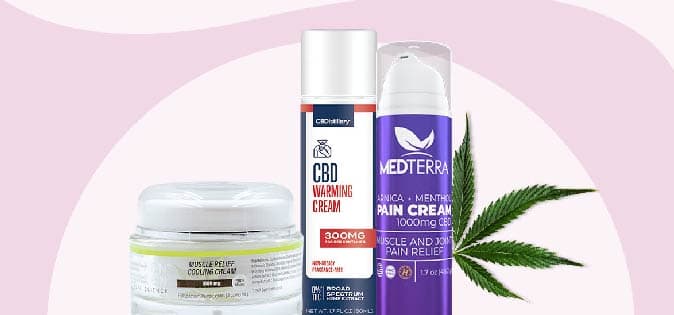 Component that you can find in CBD creams
Although its name says so and its main component is CBD, doubts still arise about the additional components found in creams.
To be clearer, the additional ingredients contribute by improving the composition of the product, make it more effective and of course more nutritious.
Now, if you are interested in knowing exactly what are the ingredients that a specific cream contains, what you should do is look at the components that make it up.